or
Lettres
de mon Moulin Rouge
.
The only problem with Baz Luhrman's Puccini's
La Bohème
on Broadway is that the last two acts are a real down.
Then again, all opera aficionados know that. It only seems to make a difference in this version, when so much of the production is full of life, that it seems a pity that they couldn't find a miracle cure for Mimì this time around, much akin to the 19th century happy endings for Hamlet.
For all the hype and bother about the production, this strikes one as more authentic than most, because it is full of unabashed artifice, and is played by a young ensemble that took more than 3 rehearsals to get there, and knows they will not be leaving town to sing
Rigoletto
on Friday night in Fort Worth. The cool precision with which the actors and the choreographed stagehands meld the scenes together and fabricate an almost cinematic version of this time-flogged story is half the fun, and certainly half the action. It's 1951 or so, on Paris's left bank, and these are real bohemians who paint on canvas with siphons, eat in the bathtub, and type on an Olivetti. You cannot find a better quartet than these four youngsters crawling over each other to keep warm like puppies, to scrape together a living out in the streets of the Latin Quarter.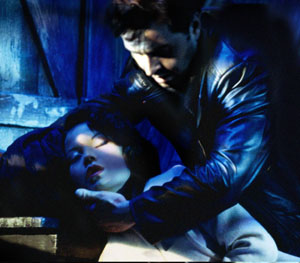 I have always found the first act of this opera quite an opera in itself, and don't know why someone hasn't put it on a bill with something like Trouble in Tahiti as two one-acters. What's missing? It's got action, humor, pathos, drama, love interest, and a happy ending. Who needs more? All right, I'll keep that in abeyance for now.
Read more >>